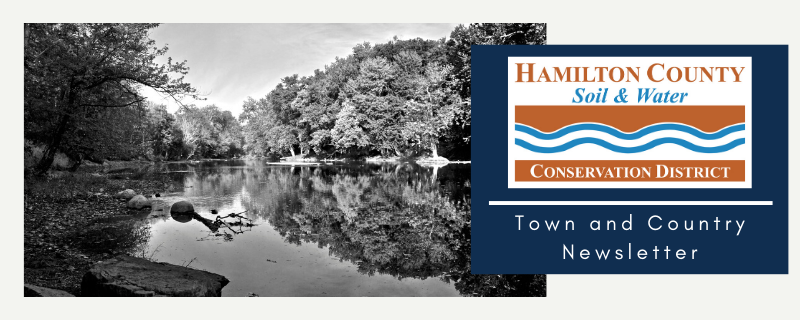 In this issue:
Hamilton County Fights Invasive Species
Water Fair Callout
Even Snow Can Go Green
Wood Warbler Coffee Does their Part for Birds
LARE Feasibility Study Selects Firm for Stoney Creek
Vocab word of the Season
So, What is a Tillage Transect?
Invasive Species Assessments
Tree Sale Report
Winter Foraging: Watercress
New Drainage Factsheet to Guide Choices
SWCD Featured in IASWCD Magazine, The Resource
Upcoming Events:
Water Fair
February 8, 2020
Purdue Crop Management Workshops (PARP)
January 27-31, 2020. Learn more here.
Small Farm Networking Breakfast
February 24, 2020. Learn more here.
Purdue Ag Sessions (PARP) February 20, 2020.
Learn more here.
SWCD Annual Meeting
February 20, 2020
Learn more here.
CISMA State Conference
March 26, 2020
Learn more here.
Sustainability Workshop-Invasive Species
April 18th, 2020
Learn more here.
Hamilton SWCD Annual Meeting
Interested in the soil and water concerns in Hamilton County? Want to know how our office spent its time this year? Love free food? Join us for our annual meeting on February 20, 2020. This year we're continuing the tradition of an evening meeting from 5-8pm at the Hamilton County 4-H Fairgrounds in the OV Winks Building. We hope to see you there!
To RSVP see our website at the link below. Please RSVP before February 12, 2020.
Call Out for 2020 Affiliate Members
Love what our office does? Want to see more conservation practices being put on the ground? Consider becoming an affiliate member. Affiliate Members are donors who help us fund additional programming. Donations are used to hold workshops and programs for all age groups, produce educational publication, establish demonstration sites, and support the many services offered by the SWCD. Affiliate Members come from all backgrounds and all areas of the county. To support us, visit our website below.

Hamilton County Fights Invasive Species
Claire Lane, Urban Conservationist
​As long as humans have traveled across the earth, they have purposefully and sometimes unknowingly transported plants, animals, insects, and other organisms. When an organism is brought to an area it did not traditionally live, it is considered exotic. Some of these exotic species are able to feed, reproduce, and spread with no limitations. These species "invade", sometimes causing great environmental destruction in their path. These species are considered invasive.
​
Luckily, many property owners and managers are building on the state and nationwide momentum to address invasive species by coming together to form a Cooperative Invasive Species Management Area (CISMA) in Hamilton County. This effort is being coordinated and led by the SWCD.
Are you interested in having your water tested for FREE?
Hamilton County SWCD is hosting the first ever Water Fair. Come learn about your drinking water and groundwater quality at the 4H Fairgrounds in Noblesville. This is an open event and guests can come and go anytime between 9:30am-12pm.
Questions? Check our webpage or email us at soil.water@hamiltoncounty.in.gov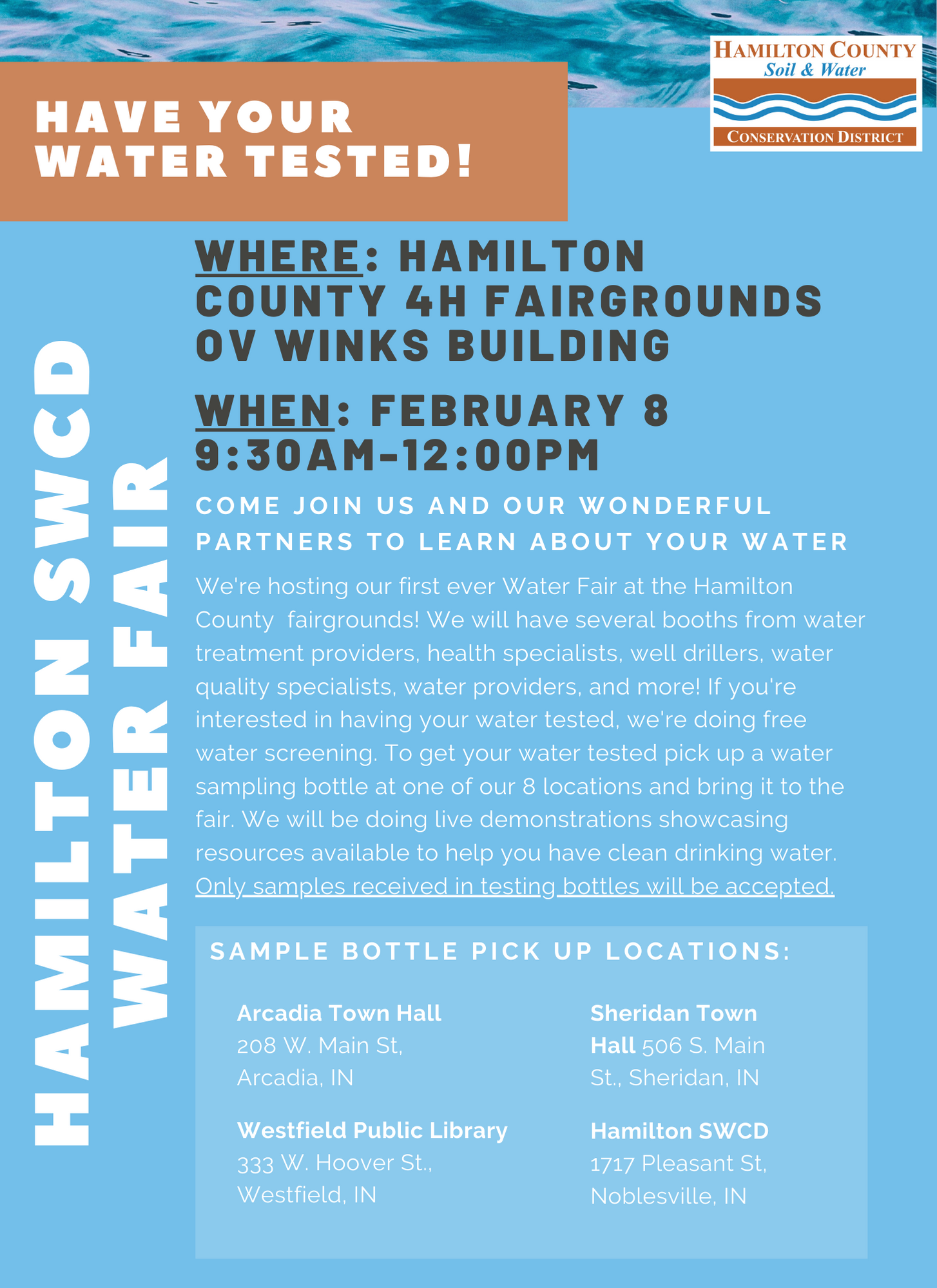 Even Snow Can Go Green
Taylor Wilson, Conservation Technician and Outreach Assistant
Easy eco-friendly ideas you can use to make this winter more fun
Snow and freezing temperatures are something we all have to deal with—so why not deal with them in a way that conserves our natural resources? Snow can be a major hindrance to our routines. It can easily add up to an hour to your commute when it comes down to cleaning your driveway, cleaning your car, and then navigating icy roads. Salt and chemical de-icers can be a life saver in a pinch, but they have been building up in our soil and water resources for years. There are better, less expensive, and more efficient ways to deal with snow than the current norm.

Through years of using salt de-icers we've added chloride to the soil and water resources across the United States.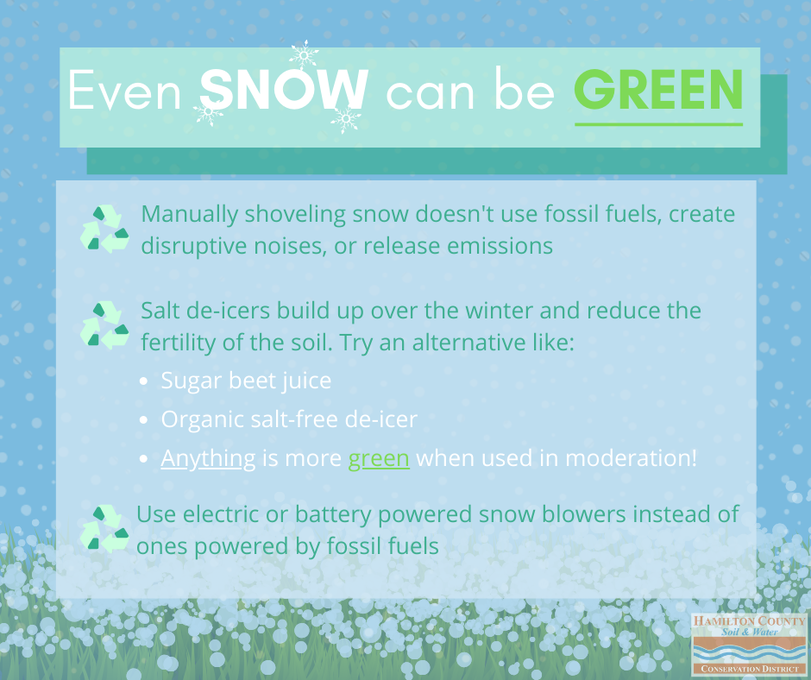 New Business Wood Warbler Coffee Does their Part for Birds
Taylor Wilson, Conservation Technician and Outreach Assistant
As we move into the new decade, it's great to see people doing things that benefit the environment. Especially when a business is integrating ecological integrity into their business model. Wood Warbler Coffee is a small batch coffee roaster located in Noblesville on the corner of 8th Street and Chestnut. What are they doing for the environment? Purchasing and supplying Bird Friendly Coffee.
LARE Feasibility Study Selects Firm for Stony Creek
Ginger Davis, Conservation Administrator
The Neighborhoods of James Place and Wellington North East in Noblesville have been concerned about the erosion and stream flow changes they have seen in Stony Creek over the past several years. The two neighborhoods contacted the Soil and Water Conservation District to see what could be done to help the neighborhoods get their stream back.
Vocab Word of the Season: Solastalgia
Solastalgia is a new word coined by environmental philosopher Glenn Albrecht that describes the distress caused by environmental change, specifically, loss. ​Those with a connection to the land will feel this more intensely, especially farmers and nature enthusiasts who depend, first-hand, on the benefits of natural resources. As areas of nature disappear, or evidence of people working with the land is lost, the more likely a community will lose its grounding, literally and psychologically. For the whole article, click here.

So, What is a Tillage Transect?
The Hamilton County SWCD has been conducting an annual tillage transect in the county for the past 20+ years. More recently we have also added a cover crop transect, which is done in the fall while the tillage transect is done in the spring. So what's it all about?
Invasive Species Assessments, About
Technical assistance through the Hamilton County SWCD is a type of consulting that provides support, planning, and guidance for anyone or any group interested in applying conservation to the land. It is a free service offered to citizens of Hamilton County who desire to work toward conservation. One way we offer technical assistance is through an invasive species assessment.
Tree Sale Report
With another tree sale in the books, we're excited to announce we doubled our orders from last year. Not only does this mean we'll have additional funds to bring more conservation to your backyard, but together we planted over 1,600 trees in the county!

SWCD Soil Health Trailer to Unveil in 2020
If you've been to our office or dropped of recycling recently, you may have seen our soil trailer in our back lot. In 2017 we received funding from the Clean Water Indiana grant to create a mobile museum about soil health all contained in a 25 foot trailer. We've worked for the last 3 years to purchase, design, and create the trailer and now it's almost ready!
The trailer is in final construction to enhance the interior. You should be seeing more and more of it as it is unveiled at different events around the county this year.
Watercress Winter Foraging
The winter weather can make it seem like nothing is growing this time of year, but if you know where to look you can find all types of life. Foraging is a great winter activity. Getting out and enjoying nature and even enjoying the cold helps stimulate your mind and overcome the winter "lull" it's so easy to be stuck in. This winter consider getting outside and seeking out watercress to add to your foraging list.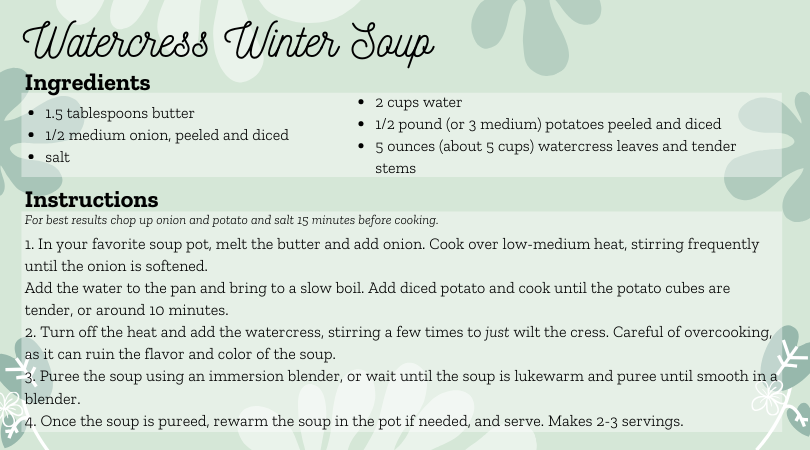 Accepting Soil Tests for the
2020 Growing Season!
Bring two cups of the soil you want tested to our office. Learn more here.
New Drainage Factsheet to Help Guide Choices
Most homeowners would agree that standing water around the home is a nuisance and many have great concern about it. Unfortunately, we are projected to see even more rain and heavier downpours in Indiana's future. Purdue is projecting that many of these rainfalls will happen in the winter months making it even harder for us to keep up with...
Hamilton SWCD Featured in NACD Magazine, The Resource
Rain on Main, our annual painted rain barrel silent auction and art competition program held with Carmel Utilities and Carmel Stormwater, was featured in the Fall 2019 issue of The Resource, the National Association of Conservation Districts (NACD) nationwide quarterly publication. You can view the feature on pages 14-17 here.
Thanks for reading! Watch out for our spring newsletter in March, 2020.
Affiliate Members
Affiliate membership dollars support conservation and education in our county! Join us in thanking these great supporters!
We have updated our affiliate levels! Visit our affiliate membership page to see how you can support your SWCD.
Hamilton County SWCD
1717 Pleasant St., Suite 100 | Noblesville, Indiana 46060
3177732181 | soil.water@hamiltoncounty.in.gov